Testimonies from
November 1938
The beginning of systematic persecution
On the occasion of the 80th anniversary of Kristallnacht, the 1938 November pogrom, Centropa is presenting on November1938.at excerpts from interviews with Viennese Jews who share personal stories from the year 1938.
These narratives often do not begin with the Kristallnacht pogrom of November 1938, but start as early as March 1938 with the so-called "Anschluss" of Austria to the German Reich. While the majority of the Austrian population welcomed the invading German troops on  March 12, 1938 with enthusiasm, a difficult time was now beginning for the Jewish population. From this moment forward they could be openly discriminated against – as, for example, with the so-called "Reibpartie,"a term describing groups of Jewish citizens who were forced to scrub the streets with brushes while neighbors and onlookers watched.
How did Jews experience the year 1938 and the November pogroms in Austria?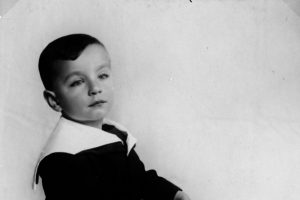 Paul Rona was less than seventeen years old when he and his father were arrested on pogrom night. Paul was released but his father was deported to a concentration camp.
Continue reading »
Want to learn more about the November Pogroms?
The reports and films featured on this site are just a glimpse into the multi-faceted history of the November Pogroms in 1938. We've put together an extensive directory of resources to help you deepen your knowledge.